Cindy Finch is a Licensed Clinical Social Worker (LCSW) who specializes in helping people through their darkest times. She trained at the Mayo Clinic and has been featured in the Los Angeles Times, HuffPost, and CURE magazine. A survivor of traumatic life events, Cindy writes and works from lived experiences. She's helped thousands of people through their suffering, encouraging them to move forward and keep enduring to come out invincible.
 Her latest book, When Grief is Good, was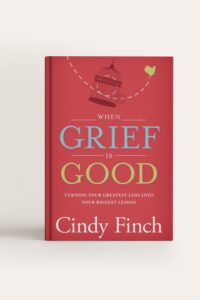 released this past September and, at some point during this interview, we actually talked about it. Before that, though, she turns the tables a few times and puts me in the hot seat. This is definitely one you have to buckle up for and stay to the end because if you do I've got two words for you—hot monogamy!
 You can learn more about Cindy at her website, cindyfinch.com. Additionally, Cindy would love it if you learned more about Love to Pivot, an organization that helps individuals, couples, families, and groups pivot from unhealthy relationships into healthy relationships.