C. Frederic John enjoys a global reputation as a strategic researcher with a career spanning over 40 years. He specializes in melding profound insights into concrete recommendations for clients, and in crafting compelling research deliverables using story-telling techniques.
Fred and I have a few things in common; we both worked in the market research industry, we both worked for MasterCard, and we both value the power of storytelling when it comes to presenting findings to clients. In fact, Fred is so passionate about storytelling in market research that he literally wrote a book called Storytelling and Market Research: A Practical User Guide.
While the market research industry has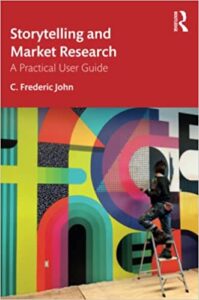 gotten better about storytelling with regards to presenting research findings, the need for Fred's book is undeniable. In it, he discusses the importance of story to keep a reader's attention and gives practical and tangible advice for transforming mundane reports into page turners.
I caught up with my former colleague just a few days before the book launched to discuss his career as a researcher, what compelled him to write this book, and how he went about finding a publisher and turning his idea into reality. 
Storytelling and Market Research: A Practical User Guide will be available for sale on Thursday, November 11, 2021.