When I was presented with the opportunity to interview J.M. Thompson about his memoir, Running is a Kind of Dreaming, I sprinted to say yes for two reasons; I'm an avid runner and wanted to know what inspired the title and it deals with mental health issues, specifically men's mental health issues.
A few years ago, my twin brother was suffering from anxiety, depression, and panic attacks. I'm not telling tales out of school here, he chronicled all of that in his own memoir. One of the hardest things I've ever had to do in my life was check him into the psychiatric hospital where he spent a long week of in-patient treatment followed by multiple weeks of outpatient treatment. It pained me to see this strong man, who I shared so many life experiences with, come to the brink of falling apart. 
Even in this day and age, men's mental health is still very much a taboo subject given our sex's aversion to vulnerability. I hoped that by interviewing J.M. about his book, I wouldn't just leave with another powerful story but that I'd also help the cause to raise awareness of men's mental health issues in general.
But enough about me. 
You might be asking yourself who J.M. Thompson is. Well, I have answers. He was born in England and holds a BA in English literature from Oxford University and a doctorate in clinical psychology. 
He completed his psychology training at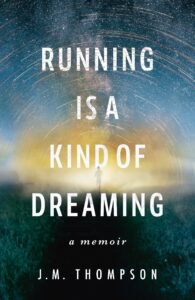 the University of California, San Francisco, where he conducted research on the brain mechanisms of meditation and the physiology of trauma. He is also an ordained Zen practitioner and certified yoga teacher. 
Critical to this story is the fact that he has finished over 40 ultramarathons, and multiple solo adventure runs in the Sierra Nevada, the Grand Canyon, and Death Valley. Thompson currently serves as a staff psychologist at the United States Department of Veterans Affairs. His aforementioned memoir, Running is a Kind of Dreaming, became available for sale as of October 5th. 
Listen in as we uncover the emotionally charged story that is the genesis behind the book as well as how running helped J.M. turn his life around. This is a powerful story and one that I was honored to uncork. Please share it with anyone who you think could benefit from it. Happy listening!