This has been a hell of a week…and it's only Tuesday.
A little over three months ago, I set a personal goal to do a half-marathon by October. I spent 16 weeks training for it by completing 5 workouts per week, every week, over that time period. While I was nervous about the race, I came to think of it as the reward for putting in all that time training. Simply changing my mindset to think of it in a more positive manner—a payoff vs. an obligation—made all the difference in my anxiety level in the days (and seconds) leading up to the race. I'm happy to report that this past Sunday was race day and I completed it at a pace that exceeded my expectations. 
I left this training program and race experience with two related insights:
Every run has a purpose

. The program consisted of short and long runs. Some required constant reps going up hills. Others required numerous speed intervals involving alternating "gears." My personal favorites were the LSD runs—Long Slow Distance—where I could get lost in the rhythm of a run. All of these runs served to make me a better runner (and person).

A finish line is just another starting line in disguise.

Just because the plan is over and the race was completed doesn't mean that's the end of the work. Running is a core component of my lifestyle and there will always be another race to run. 
Today, I crossed another goal off of my bucket list—to interview a world famous musician. Those of you who have listened to this show know that I've interviewed tons of bestselling authors, a few comics, and some other really inspiring people, but to date I never had a certified rock star on the show. And that's crazy, because I'm a music guy and am unashamedly a fan of 80s hard rock and heavy metal. So when the opportunity to interview Jay Jay French was presented to me, I snatched it up!
For those of you who may not know, Jay Jay is an American guitarist, manager, record producer and founding member of the heavy metal band Twisted Sister. He is a columnist, author and motivational speaker who oversees licensing and intellectual property rights for the Twisted Sister brand.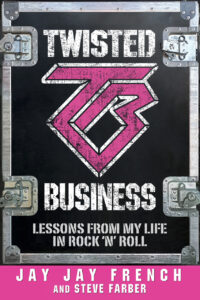 His new book, Twisted Business, is part memoir and part business book follows French's adventure-filled life—from growing up in New York City in the sixties, to working as a drug dealer and struggling as an addict before quitting cold-turkey, and finally, to creating and cultivating Twisted Sister and turning it into one of the most successful brands in the world.
During our time together we discussed his back story, why it was so important for him to manage the band like a business, and the strategic decision to work "clean," meaning band members were not using drugs or alcohol. We also talked about how he and front man Dee Snider made amends after the band broke up in 1988 and their colossal comeback sparked when they performed a fundraiser to benefit the New York Police And Fire Widows' And Children's Benefit Fund.
The lessons Jay Jay and his co-author Steve Farber share in Twisted Business can apply to any organization that values strategic planning, reinvention, and putting the consumer (or fan) at the center of everything they do.
Twisted Business: Lessons from My Life in Rock 'N' Roll can be purchased wherever books are sold. Enjoy the show.