Nadine Crocker survived a suicide attempt when she was 23 years old. After leaving home at 16 to pursue a career in front of the camera, maybe she thought she could leave the intense feelings of loneliness, depression, and anxiety back in Fresno. Also, really pretty and talented people aren't supposed to have those kinds of feelings, are they? Well, they do and Nadine wasn't immune to the feelings that run through her family. She wrote, directed, produced, and starred in Continue as a gift to the world to help us all have better conversations about mental health.
Most working actors will tell you that overnight success is a myth. Sure, there are exceptions to the rule, but there's a lot of rejection that comes when seeking an on-screen career. Authors tell me the same thing—many of us can line our walls with rejection letters from agents we've queried over the years. Just like there are few overnight successes, depression and anxiety are slow burns that, for some, eventually may lead to suicidal ideation, attempts, and, for too many, death. Those of us who have experienced these emotions, or who have loved ones who live with them, know that we all need to do a better job at recognizing mental health issues, addressing them, and loving those who experience them. 
If you look closely at the cover art for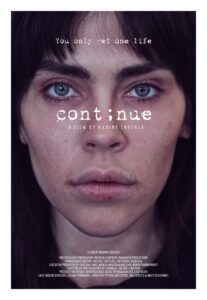 the film, you will notice that the title is spelled Cont;nue, with a semicolon replacing the letter i. A friend of mine had to educate me on the significance behind this. She pointed me to a website for Project Semicolon whose late founder, Amy Bleuel, explained, "A semicolon is used when an author could've chosen to end their sentence, but chose not to. The author is you and the sentence is your life." There is a tragic beauty to that sentiment; tragic that it had to be written at all but beautiful because the second chance/hope it implies.
I know that you will enjoy my interview with Nadine, which is certainly much more upbeat than the subject matter we discussed. She's an amazing person with a light that comes through in her voice.  My only regret is not asking her if she was familiar with the 1986 mini series Fresno which took place in her hometown! Think Dallas but about raisins instead of oil.
Please visit https://www.continuethefilm.com/ for more information about Nadine and the film. Follow Nadine on social @nadinecrocker. 
If you, or anyone you know is in distress please know that help is available through Lifeline, the National Suicide Prevention Hotline. Visit https://suicidepreventionlifeline.org/ for more information.