There are a few occasions in my life that are seared into my memory banks; my first kiss, the day I met the woman who would become my wife, the night my triplets were born, and the first time I had Wagyu beef. That was last night.
Usually it's Larry at LaRocca's Country Market who attempts the up-sell when I'm considering the options in front of his meat case. Yesterday afternoon, though, it was Tommy LaRocca—the bwana himself—who offered me what later that night I'd consider a life changing opportunity. It all started with a question after I asked for a Prime NY Strip, "Hey, how would you prepare the Wagyu?" 
"Well," Tommy started, "We've tried it a few different ways but the best way is to sear it in a hot cast iron skillet and maybe finish it in the oven if you need to."
To paraphrase the famous line from Jerry Maguire, "You had me at cast iron skillet." 
After making me an offer that my curiosity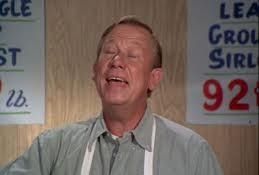 and taste buds couldn't refuse, Tommy wrapped up the steak as if it were a present and I was on my way. Somewhere in Heaven, I like to think Sam the Butcher from The Brady Bunch was smiling down on the transaction that happened at LaRocca's Country Market on Old Long Ridge Road yesterday afternoon.
I went next door to the spirit shop to do the only reasonable thing one could do after buying such a steak—bought a bottle of cabernet to pair with the marvelously marbled masterpiece. I settled on Silver Oak from the Alexander Valley which is never a bad call.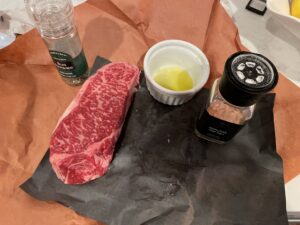 After returning home, I busted out the cast iron skillet and laid out the holy trinity of seasoning for a steak; salt, pepper, and some extra virgin olive oil. After brushing the EVOO onto the meat, I showered it with salt and pepper. I put some butter in the hot skillet to assess temperature and the immediate sizzle let me know that it was go time.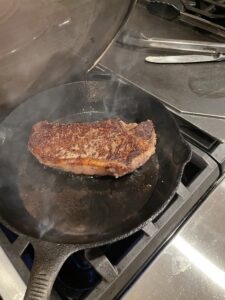 Given that it wasn't too thick, I seared it for three minutes on each side and then three minutes in the oven at 425. After letting it sit for a few minutes, I slid one of the CUTCO steak knives I bought off of a poor college kid whom I took pity on a few years ago through the tender beef and had a taste. It's truly worth every penny. Even my wife, who is a tough customer when it comes to anything except filet mignon, said it was one of the best steaks she's ever had and, like Jack Woltz, she's had them all over the world! Actually, that's a lie as we really haven't traveled all that much, but I couldn't help another Godfather reference.
So if you find yourself at LaRocca's Country Market on Old Long Ridge Road in Stamford and are eying one of the Wagyu strips please take it from me that it is worth the extra investment per pound.